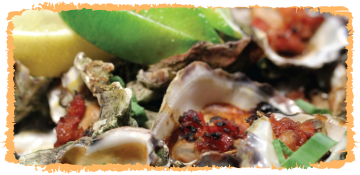 6 Oys | 12 Oys Oysters topped with crispy bacon, seasoned in Kilpatrick sauce and grilled to perfection with only a hint of Bombay spices. We call this putting an Indian spin on an Aussie fav!
Squid rings seasoned in pepper, garlic and spices and tossed in mustard oil and gently mixed in sweet chilli sauce.
A funky fusion of Indian Samosa filling in a crispy fried Mexican tortilla wrap. Served with sweet chilli sauce. Yum!
Barramundi steaks seasoned in a mustard marination, grilled and served with mesculin and mint Raita.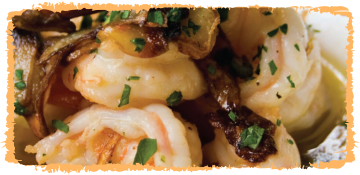 6 Fresh prawns sautéed in garlic, fresh chopped chilies and Madras spices to a mouth-watering perfection.
THE GREAT INDIAN KEBAB LOVE STORY

For Emperor Shah Jahan, it was love at first bite!
Legend has it that Mumtaz Mahal made her way into the heart of the Emperor by serving him Kebabs that featured a special recipe so is the Taj Mahal a requiem for love or an ode to the passion of his life – Kebabs?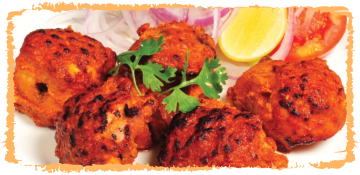 Half | Full The real McCoy of authentic Indian Tandoori Cuisine! Whole chicken marinated and roasted in oven. Served with mint Raita.
Succulent tender morsels of flame-grilled chicken breast fillets marinated in Tandoori spices and yoghurt and roasted in oven. Served with mint Raita.
Using the choicest Aussie lamb cutlets seasoned in Lucknow spices and grilled to juicy perfection. Served with mint Raita.