WHAT IS BIRYANI?
Did someone say legend? We call this the dish of legends, and here's why… Timur the Lame is supposed to have brought the original Biryani to India via Kazakhstan; Mumtaj Mahal, Empress of the famed, Shah Jehan, used it to feed the Mughal army; and Emperor Aurangzeb sent this dish to South India when he handed over Hyderabad to Asif Jahir King and King of Curries, GJ himself, brought the famed dish to Brisbane!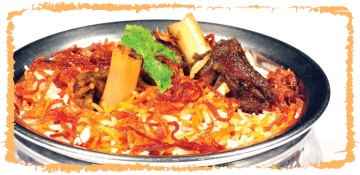 Tender lamb and Basmati long grain rice cooked together in mace and whole spices and Saffron. Served with mint Raita.
Basmati Rice cooked with Chicken and hand-picked spices and Saffron to mouth-watering perfection. Served with mint Raita.
A medley of vegetables, delicately cooked with Basmati long-grain rice, select spices and Saffron. Served with Mint Raita.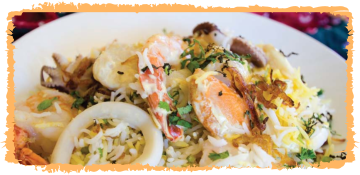 Assorted seafood – tiger prawns, fish, scallops, squid, mussels and baby octopus tossed with long-grain Basmati rice and cooked in coconut milk, seasoned with herbs and spices. Served with mint Raita.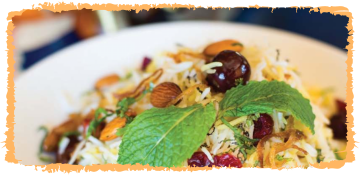 Long-grain Basmati rice tossed with assorted dry fruits and aromatic Saffron.