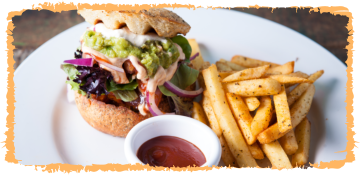 Chicken Tikka Masala | Beef Saagwala
Vegetarian Makhani $14.95
Lamb Madras | Prawns & Fish Makhani $17.95
Nope, it's not Indian for 'rabbit food'! Funny name, scrummy taste sensation! It's an homage to Durban in South Africa and also coveted in India! Hollowed out focaccia bun with your choice of fillings plus greens, zesty salsa and dips. It's gonna blow your flavour-seekin' MIND! P.S. 1000% no rabbit!
This is pizza, Bombay style on a scrumptious naan pizza base. Choose from:
Chicken Tikka & Bacon – with capsicum, onion, tomato and jalapenos.
Veg Supreme – with mixed veg, spinach, ricotta and healthy greens.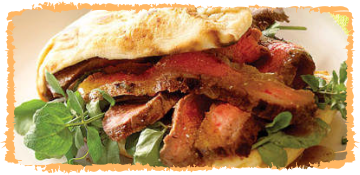 Traditional steak sandwich with an INDIMEX zing. Chargrilled steak served on triple layered naan with bacon, fried egg, lettuce, tomato, cheese and chipotle mayo.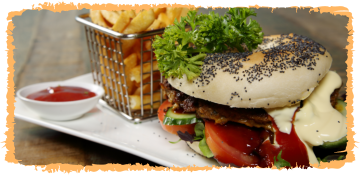 Succulence is guaranteed or our name isn't IndiMex! Beef patty, lettuce, tomato, cucumber, jalapeno, caramelised onion chutney and chipotle mayo.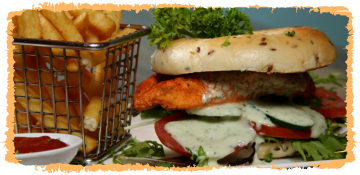 The Maharaja himself would order this jewel of a bagel with its succulent, spicy chicken breast meat and glorious fresh sauces. Tandoori chicken, cheese, fresh mint raita, zesty salsa and chipotle mayo.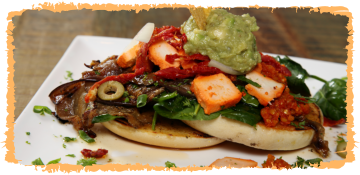 Tons of unexpected flavours piled into a yummy bagel. Ricotta, eggplant, pesto, sundried tomato, baby spinach, mashed avocado and a luscious splash of IndiMex Habanero BBQ sauce.
Sourdough toast topped with baby spinach and salad, pesto, smoked salmon, crumbled ricotta and a poached egg, all drizzled with balsamic vinaigrette.
Chicken  Beef | Lamb | Veg  Not just any ol' wrap but a Frankie Wrap! One of India's most popular street food temptations, its succulent fillings are perfectly flavoured with mouth-watering spices and rolled in an egg-coated, grilled tortilla.