IndiMex Introduces The Great Bunny Chow … 1000% Rabbit Free!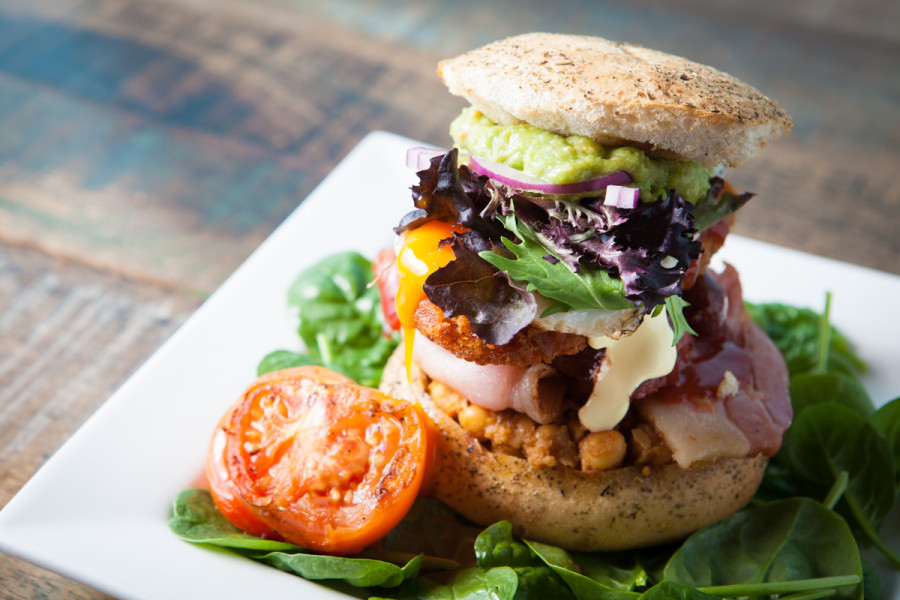 Special offer
$14.95 Bunny Chow Brekkie & Coffee OR $15.95 Bunny Chow Lunch & Beer
We are running a special promotion until the 30th of June 2016, where you can get the Bunny Chow Brekkie and a Coffee for $14.95 OR a Bunny Chow Lunch and a Beer for $15.95. The offer is available from 11:30AM to 3:00PM Monday to Friday, and from 8:00AM to 3:00PM Saturday and Sunday. The lunch version of the Bunny Chow is only available after 11:30AM. Dine-in only.
You must be over the age of 18 and may be asked for ID when ordering the Bunny Chow Lunch & Beer. Includes craft beer on tap only. Not valid in conjunction with any other offers, promotions or discounts. Management reserves the right to terminate, suspend, alter the promotion at any time without prior notice. For further clarification we recommend that you call us on (07) 3394 1000 and confirm the terms and conditions.
If you haven't experienced Bunny Chow, you've got to get your tastebuds in to IndiMex for a serve!
So what is Bunny Chow?
Well here's what it's NOT:
It's NOT a slang term for 'rabbit food'.
It's NOT a dish containing rabbit meat.
And it's NOT boring or bland.
Bunny Chow is a mouth-watering concoction of bread, curry, salad and luscious sauces. You have to taste it to believe it! And we promise, it's 1000% rabbit free!!
It starts with a focaccia bun. We hollow it out and fill it with hugely flavoursome IndiMex curried meats. Choose from chicken tikka masala, pulled lamb madras, beef saagwala, fish and jalfrezi prawns or a mixed veg makhani version. Then we load it up with fresh greens, our own salsa, house-made guacamole, sour cream and drizzles of chipotle mayo. Then we pop the lid back on and serve it with crispy Cajun fries. We also have a brekkie version (pictured above), which is loaded with bacon, chorizo, chickpeas, hash brown and fried eggs topped with zesty salsa and avocado mash.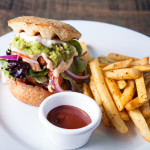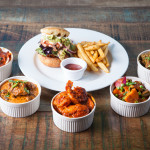 Chicken Tikka Masala        5 fillings available
Where did Bunny Chow come from?
Actually, it was originally a convenient way of migrant Indian workers in Durban, South Africa to transport their curries to the canefields. They would take a loaf of bread, scoop out the bread inside, then fill the cavity with their vegetarian curries. This was way back in the 1940s. How clever were they?! They wanted to enjoy their curries on their work breaks but back then, practical containers either didn't exist or were out of affordability. By buying bread, they could eat the container too! That is, after it did its job of holding their precious healthy curries and all the juices.
Eventually, Bunny Chow became a popular street food menu item featuring meat or veg fillings, in both South Africa and India and today, South African expats cannot believe their eyes when they find they can get their hands on one outside of their homeland!
Here at IndiMex, Chef GJ is super excited to be able to offer this fun dish to customers. We've already had enthusiastic South Africans in for a taste and they've given our Bunny Chow a resounding thumbs-up!!
Bunny Chow Brekkie – yes, seriously!
When it comes to our menu, by now, our customers know us to be brave and innovative! Chef GJ will always find an unusual twist on standard fare and Bunny Chow is no different. Let your mind wander for a sec. Picture a hollowed out multigrain bun, absolutely stuffed with chorizo, bacon, chick peas, mushrooms and some nice green leaves, then topped with a fried egg. Can't you just taste it?!
Come on down for Brisbane's best Bunny Chow!
Whether you've heard of it before or not, you've got to try our Bunny Chow. South African, Indian, Chinese, French or 'Strayan, Bunny Chow is a spectacular dish that you can now enjoy right here in Brisbane. Bring your friends and try them all!!