IndiMex – The First, The Best, The Greatest There'll Ever Be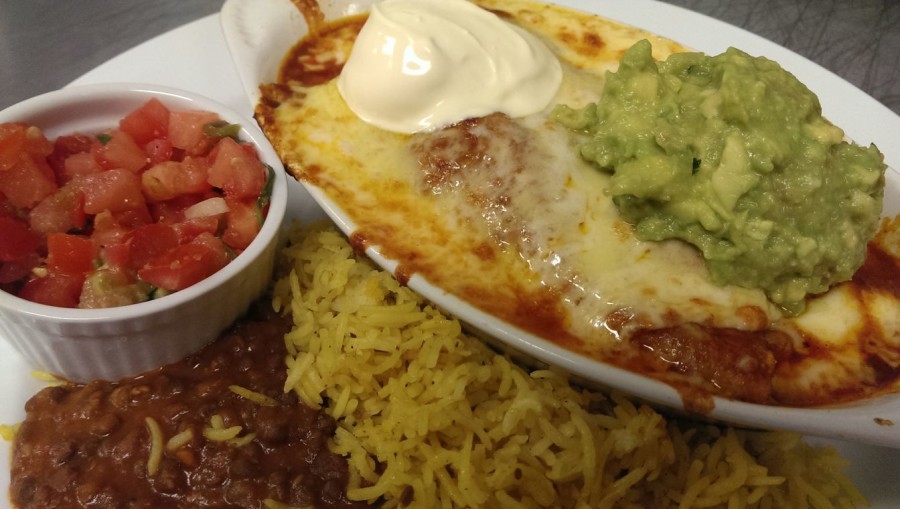 Viva IndiMex! As Australia's first Indian/Mexican concept restaurant, we work very hard to uphold our culinary brilliance! In the year since we opened, we've welcomed countless passionate foodies, munchies-seekers, family guests, food bloggers, flavour-starved punters and of course, die-hard fans of Indian and/or Mexican cuisine.
Some have plunged eagerly into our IndiMex speciality menu and not come up for air until they've cleaned their plates! Others have dipped their toe in, sampling our famous Chimosas then singing our praises. And still others have been not quite so convinced. But you know what? There's no such thing as a wrong opinion and we love to hear all feedback.
So what IS 'IndiMex'?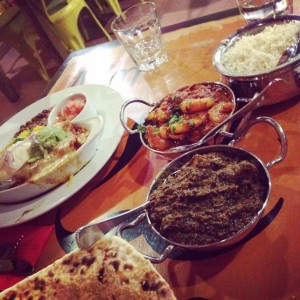 Created by Chef GJ Singh, who simply can't help but dream up clever new ideas for food, IndiMex is what he calls "funky Indian with a Mexican twist". Born in India, Chef GJ knows a thing or twenty about Northern Indian dishes and he turns out some sparklers!! Anyone who wants a REAL, authentic, full-flavoured curry – as mild or as hot as you can handle – should drop by for one of his classics.
But Chef GJ also presided over fast-paced kitchens in high end Mexican restaurants in Japan, of all places. Not only did he become fluent in Japanese but he also learned the finer nuances of Mexican food which, he discovered, were closely aligned with his native Indian food. IndiMex became the vehicle for his cool funky Indian with a Mexican twist concept and he established a seriously delicious range of dishes that are Mexican on the outside and Indian on the inside. Basically, lift the sombrero and you'll find a turban!!
Imitation is the highest form of flattery
Since opening in May 2014, Chef GJ has noticed a proliferation of eateries offering Indian and Mexican dishes. "But none can match the vibrant personality and fun of IndiMex," he grins. In fact, though Indian and Mexican foods are both hugely popular with Aussies, with Mexican making an energetic resurgence in Brisbane – think burrito bars, tacos from food trucks and so on – "they are simply not IndiMex," GJ insists!
"IndiMex is a concept. It's not just a restaurant," he explains. "A great deal of thought, passion and skill have gone into this place and the food. I can tell you that I have considerable expertise in cooking Mexican dishes of all kinds. But to me, the amalgamation of Indian with Mexican is amazing, and our customers constantly provide feedback that they love it too!"
Despite his seemingly cocky comments about IndiMex, Chef GJ is actually a humble man who is deeply appreciative when customers enjoy his food. "It's the best thing in the world," he says. "Even on my most frantic, stressful day, if a customer waves over the pass in my restaurant and says they enjoyed my food, it puts me on Cloud Nine!"
Neigh-sayers quickly converted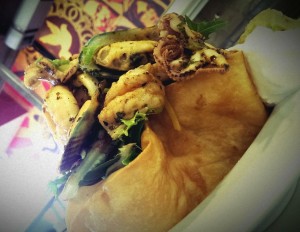 Mention 'Mexican food with Indian fillings' and you'll often be met with a confused expression or even a look that says "yuck"! But once explained, people do see the rationale behind the tasty combination. Many of the herbs and spices are the same, both cuisines use flat breads, succulent meats and beans (Mexican) or lentils (Indian). Former cynics usually figure it out on first taste. "Ohhhh, now I get it!" they say, followed by "Wow!"
So is Chef GJ concerned that there'll be another IndiMex-style eatery? "Never!" he exclaims. "I invented IndiMex and it remains my child, for want of a better term." Wholly confident – if even a little arrogant when talking about his 'child' – Chef GJ is constantly conjuring ways to improve, change, develop and amplify the unique cuisine he has called his own. And yes, folks can come in to IndiMex and enjoy their favourite Indian dishes and never even contemplate the speciality dishes. But really, why would anyone?!
Have you tried IndiMex yet? Open for lunch and dinner, morning and afternoon tea 7 days, and breakfast Wednesday to Sunday, there's a world of flavour for you to discover. Call 3394 1000 and book your table.