New Take-Home Chilli Sauce Range Available Now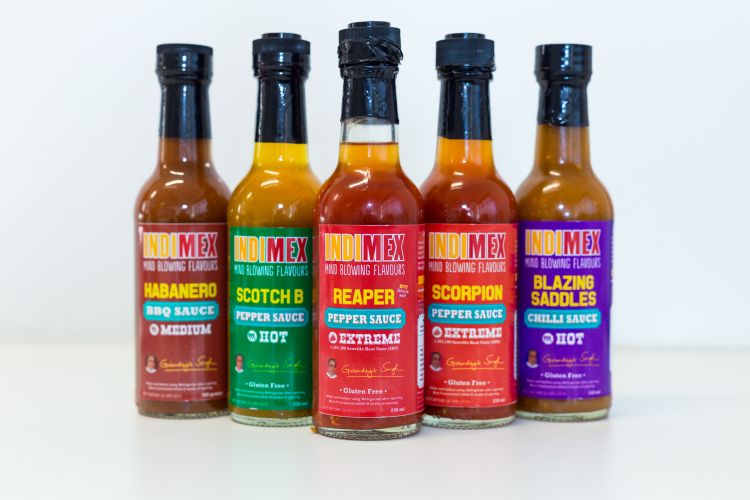 Chef GJ has introduced 5 IndiMex 'Mind Blowing Flavours' chilli sauces so that heat lovers can take their favourite flavours home! (The hottest contains the newly-designated "hottest chilli in the world", the blistering California Reaper! Can you handle it?)
It'd be fair to say that the new chilli sauces lean a little further towards the Mexican palate but Chef GJ is keen to point out that the sauces add a tad more Mexican slant than the dishes do on their own.
Each sauce is a stepping stone to higher heat. It starts at Habanero BBQ Sauce with 'medium' heat. It's a luscious, smoky, garlic-infused potion that can be described as a clever fusion of four sauces (barbecue, tomato, chilli and mustard). Flavoured with fresh tomato, malt vinegar, fresh red habanero chilli, garlic, onion, spices, molasses and a couple of other tasty things, it goes wickedly with eggs, sausages and anything else you can throw on the barbie.
Next step is 'hot' and if you don't mind a few sweat beads forming on your fevered brow at meal times, then these babies are for you. There's Blazing Saddles Chilli Sauce and Scotch B Pepper Sauce which contain fresh Jamaican yellow scotch bonnet chilli, fresh tomato, garlic, onion and some spices. They each have their own nuances but they're both scrummy on chicken and fish dishes, especially where the delicate meat could do with some amplified flavour.
For the brave – the very brave – there are two eye-watering, gullet-inflaming, scalp-sweating varieties. First, the formidable Scorpion Pepper Sauce which contains the Trinidad scorpion chilli and is rated at 1,463,700 on the Scoville Heat Units scale. A blazing concoction of vinegar, chilli and sea salt, its awesomeness lies in its utter, inescapable heat. And then there is Reaper Pepper Sauce, a force to be reckoned with for those who consider themselves extreme heat lovers! Its fire comes from the newly appointed "world's hottest chilli", the California Reaper, rated at 1,569,300 in Scoville Heat Units. A single drop may make mere mortals whimper, but for the superheroes among us, it will be just the shot in the arm that makes a meal an experience.
Chef GJ reckons the chilli sauce range is the next dimension in flavour for the IndiMex menu. "My dishes are already packed with flavour, yes, but many people enjoy being able to customise their food to exactly the heat and flavour intensity that they choose," he says.
The Mind Blowing Flavours chilli sauce range is available to purchase directly from IndiMex at 401 Logan Road, Greenslopes. And for a limited time, takeaway orders over $100 receive 1 bottle of sauce for free!
Introductory Prices*
Habanero BBQ Sauce (medium) $10
Blazing Saddles Chilli Sauce (hot) $10
Scotch B Pepper Sauce (hot) $10
Scorpion Pepper Sauce (extreme) $12
Reaper Pepper Sauce (extreme) $12
*Prices subject to change without notice.